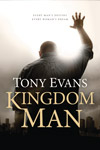 Kingdom Man, by Dr. Tony Evans
When a man follows the principles of biblical manhood, those around him benefit from his leadership and care. Kingdom Man challenges and equips men to fully understand their position under God as well as their position over what God has given them.
The biblical definition of a man is one who has learned to operate under the authority of Jesus Christ while carrying out responsible and legitimate leadership within the sphere of influence that God has placed him. Kingdom Man provides concepts men can follow that will help them to actively pursue ways to maximize and develop the character qualities of biblical manhood in their lives.
Men, it's time to raise the standard and remind ourselves of manhood as God intended it to be. Join Tony Evans and other men around the world on a journey of rediscovering what it means to be a Kingdom Man.